You use your to get in touch with lots of people. Use your email signature to get lots of people clicking through to your blog.
Make a friendly call to action in your email signature, inviting contacts to visit your blog. Give a brief benefit to motivate action – such as what your blog's about. Include an easy to click link.
Example: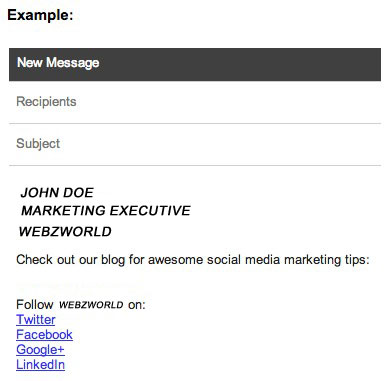 Tips for using your email signature:
Include a link to your blog in yoursignature, and encourage your co-workers to so too
Give a beneficial reason for people to click to your blog
Use the signature in all your emails, to generate more clicks
Give emails
---
Ok, now that you've got a robust email list – people will be clicking through to your blog in droves, right? Not quite.
Are you saturated with inbox info? So are your customers…
To get your emails opened, read and clicked through you need to stand out, connect with your readers, and beat out your content competitors.